There are approximately 200 cases of ear cancer diagnosed each year in the United States. If left unchecked, this rare cancer can cause permanent hearing loss, paralysis, or death. Because of its seriousness, it's important to act quickly following the detection of any signs or symptoms of ear canal cancer.
Most commonly, an ear infection that doesn't go away, even with the treatment of antibiotics, is a sign that cancer could be present. Along with a severe ear infection, sufferers may notice scaly patches, bumps, tumors, or ulcers on or in the ear. Those who spend years in the sun without any sort of protection are at an increased risk of developing these symptoms.
Basal skin carcinoma and squamous cell cancer are the two most common types of ear cancer diagnosed. Following a diagnosis, immediate treatment is necessary to ensure that no further complications manifest themselves. The SCARS Center in Orange County provides various ear canal cancer treatments, including resection surgeries and radiation, to ensure that the cancer doesn't metastasize. Meeting with our experienced staff of professionals in Newport Beach is the best way to determine a course of action and create a treatment plan that is tailored to your cancer needs.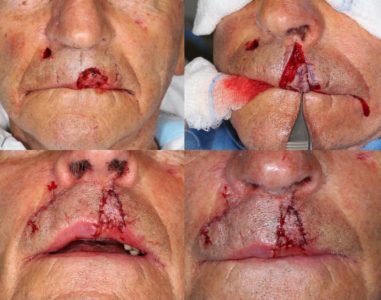 HISTORY 87-year-old man presents with 1 year history of lesion on left upper lip.  Biopsy taken 11-16-2017 and pathology showed basal cell carcinoma. Mohs excision and reconstruction were performed on 1-19-18. Mohs slide histology was presented for review. A question of appearance of perineural invasion was discussed. DISCUSSION The Mohs slides…
Read More

→
STAY UP TO DATE
Receive research updates, inspiring stories, healthy living tips and more.
CME ACCREDITED SKIN CANCER CONFERENCE
Earn your 2018 CME credits at the SCARS Foundation Monthly Skin Cancer Conference
ELEVATING THE STANDARDS OF SKIN CANCER MANAGEMENT.