ALL IMAGES ON THIS WEBSITE ARE THE COPYRIGHTED PROPERTY OF THEIR RESPECTIVE OWNERS AND MAY NOT BE USED WITHOUT EXPRESS PERMISSION FROM SKIN CANCER AND RECONSTRUCTIVE SURGERY CENTER.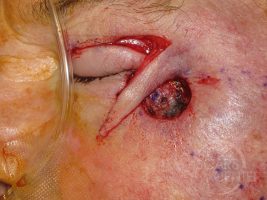 Patient diagnosed with 0.8 mm invasive melanoma with involved deep margins. Mohs surgery performed by Dr. Matthew Goodman at SCARS Center. Eyelid reconstruction performed by Dr. Simon Madorsky at SCARS Center. Related Posts:Managing Eyelid Skin CancerWood's Lamp Lower Eyelid Melanoma in situ
Read More

→
STAY UP TO DATE
Receive research updates, inspiring stories, healthy living tips and more.
CME ACCREDITED SKIN CANCER CONFERENCE
Earn your CME credits at the SCARS Foundation Monthly Skin Cancer Conference
ELEVATING THE STANDARDS OF SKIN CANCER MANAGEMENT.