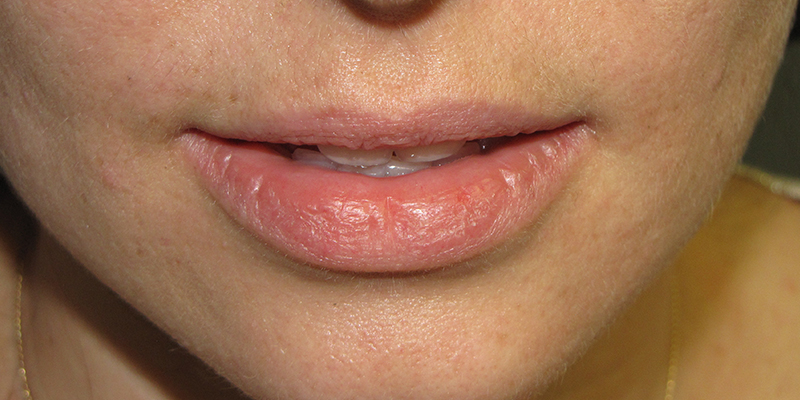 About Actinic Cheilitis
Actinic cheilitis is an inflammatory premalignant condition of the lower red lip induced by chronic UV exposure. It is a lip counterpart of actinic keratosis and presents similarly with crusting, scaling, leukoplakia, inflammation, and occasionally cracking and bleeding. It may affect a small area of the lip or the entire lower red lip. It must be differentiated from squamous cell carcinoma by a biopsy if the lesions is particularly severe. Clinical actinic cheilits lesions are histologically heterogeneous with findings ranging from atypia to invasive squamous cell carcinoma. A histologic study of vermillionectomies for extensive actinic cheilitis found the final post-operative histologic diagnosis to be more severe than pre-operative biopsies in 40% of cases. 30% of the cases had invasive squamous cell carcinoma not found on pre-operative biopsy.¹ However, most cases of actinic cheilitis are histologically atypical without carcinoma and have a fluctuating clinical course.
Treatment
Treatment options of actinic cheilitis depend on a variety of patient and lesion variables. They include cryosurgery, chemical peeling, electrodessication and curettage (ED&C), CO2 laser ablation, topical 5-FU, topical imiquimod (Aldara), topical diclofinac (Solaraze), photodynamic therapy (PDT), and vermilionectomy (lip shave) with mucosal advancement.
Among thermal / chemical ablative treatments (cryoablation, ED&C, chemical peel, and laser ablation), CO2 laser ablation has been popularized by its high cure rate and ease of treatment. As with any thermochemical ablative treatment, recovery can be long (2-3 weeks of healing) and scarring can occasionally be an issue, but the results continue to be acceptable, and popularity of CO2 laser remains high, especially in practices with easy laser access. The major drawback is the lack of histology with these treatments. Recurrence of invasive squamous cell carcinoma after CO2 ablation has been reported, but is uncommon in studies with up to 30 months of follow-up.
Photodynamic therapy with ALA (aminolevulinic acid, a porphyrin photosensitizer) had received particular attention as a noninvasive treatment for actinic cheilitis but suffers from significant limitations. Treatment involves a 1-3 hour application of topical ALA, followed by a 15 minute light treatment that can be painful, requiring local anesthesia and pain medications. This is followed by several days of sun avoidance, lip swelling, desquamation, crusting, and pain lasting 3-7 days in some cases. The treatment is repeated 1-2 weeks later for a total of 2-3 treatments. In one study, although 93% of patients responded to the treatment, complete clinical response was achieved in only ½ of the patients after 2 treatments and ⅔ of the patients after 3 treatments. However, histologic evaluation of the lip after the treatment revealed an even lower cure rate than was clinically evident. After 2 treatments, only ⅓ achieved histologic clearance of actinic cheilitis.² Other studies have shown better results with up to 85% clinical control and 65% histologic control rate at 18 months. Variability of response to photodynamic therapy remains one of its limitation. The advantage of photodynamic therapy is that it is noninvasive, does not cause bleeding, has excellent cosmetic outcome, and can treat large areas of the head and neck.
Topical Chemotherapy for actinic chelitis includes 5-fluorouracil (5-FU), diclofinac (Solaraze), and imiquimod (Aldara). The oldest of these, 5-FU has been shown to be an effective treatment, although it does suffer from recurrence and lack of histologic clearance in some cases. The variability of treament results stems from variability of treatment regimen and patient tolerability of lip ulceration and crusting.
Imiquimod (Aldara) used 3 times weekly for 4-6 weeks has been shown to achieve clinical and histologic clearance in all cases. Up to ⅔ of patients experienced moderate to marked local reaction – erythema, induration, erosions, and uclerations. Clearly, tolerability is an issue with Aldara as with 5-FU, but control rates appear higher with Aldara. Longer follow-up is still needed.
Diclofinac (Solaraze) for actinic cheilitis on the other hand is very well tolerated with erythema and swelling of the lip. The 6 week twice daily course of treatment was found to have a ⅔ complete clinical and histologic clearance and ⅓ partial clinical and histologic clearance at the end of treatment.³ The high response rate to diclofinac in lips is higher than what is seen in actinic keratosis of other areas of head and neck. This is likely due to the thinness of the lip epithelium. Longer follow-up is also needed for this agent.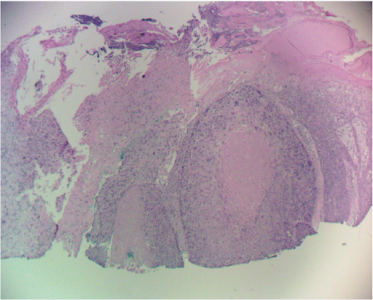 A patient presented to the SCARS Center with a nine month history of a biopsy proven Bowen's disease of the left second toe. Mohs surgery discovered areas of invasive squamous cell carcinoma arising from Bowen's disease within the lesion. After completing Mohs surgery, additional deep soft tissue and phalanx bone were resected to insure tumor…
Read More

→
STAY UP TO DATE
Receive research updates, inspiring stories, healthy living tips and more.
CME ACCREDITED SKIN CANCER CONFERENCE
Earn your CME credits at the SCARS Foundation Monthly Skin Cancer Conference
ELEVATING THE STANDARDS OF SKIN CANCER MANAGEMENT.