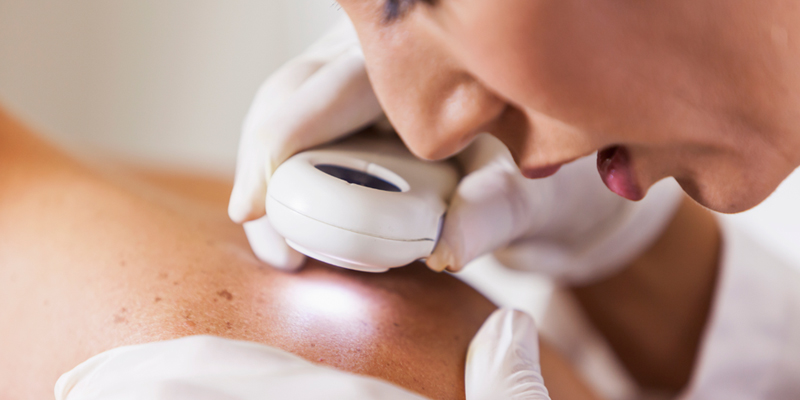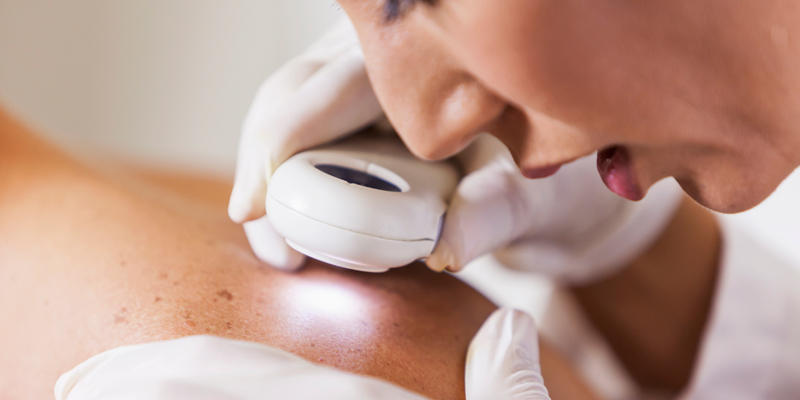 ABOUT ADNEXAL CARCINOMA
In general, adenocarcinomas of skin, when diagnosed, must be differentiated from metastasis of a visceral adenocarcinoma to the skin. PET scan plays an important role in that setting. The most common adenocarcinoma of the skin is the cutaneous adnexal eccrine (sweat gland) carcinoma. Within the category of adnexal eccrine carcinomas, the most common include microcystic adnexal carcinoma (MAC), eccrine porocarcinoma, and hidradenocarcinoma. Less common subtypes are eccrine mucinous carcinoma, malignant eccrine spiradenoma, malignant mixed tumor, malignant cylindroma, and digital papillary eccrine adenoma.
Eccrine (sweat gland) porocarcinoma has a metastatic potential and a significant recurrence rate. MAC (microcystic adnexal carcinoma) is a locally aggressive tumor tending to have a wider subclinical spread than its obvious benign appearing surface lesion. Because of this silent spread, Mohs micrographic surgery often uncovers an extensive spread not appreciated prior to surgery. The good news is that it only has a rare metastatic potential, although it still carries a higher local recurrence rate than most other skin cancers.
Histologic grade of an adenocarcinoma is the most important factor in predicting its behavior. Higher grade tumors require combination therapy – primarily surgery and radiation. Surgery can be either wide local resection or Mohs micrographic surgery. Chemotherapy is an adjunct in the setting of bulky or unresectable disease.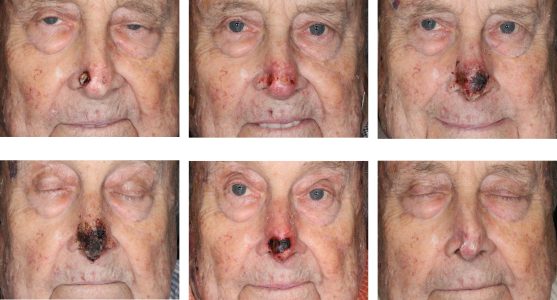 HISTORY An 86-year-old man on hemodialysis with multiple medical problems and on warfarin presented with two carcinomas of the nasal tip: BCC of the left nasal tip and SCC of the right nasal tip. The ulceration of the right SCC exposed the alar cartilage. Patient completed six (6) 5-fluorouracil injections over a 5-week period. Complete…
Read More

→
STAY UP TO DATE
Receive research updates, inspiring stories, healthy living tips and more.
CME ACCREDITED SKIN CANCER CONFERENCE
Earn your 2019 CME credits at the SCARS Foundation Monthly Skin Cancer Conference
ELEVATING THE STANDARDS OF SKIN CANCER MANAGEMENT.