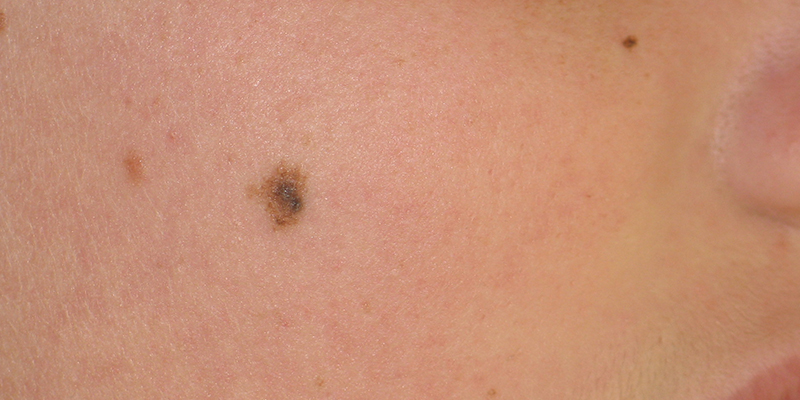 ABOUT ATYPICAL MELANOCYTIC LESIONS
Atypical melanocytic lesions are also known as atypical melanocytic hyperplasia, atypical mole, or dysplastic mole. The majority of these are benign, however, some have a significant risk of developing into melanoma or actually being a melanoma. This terminology is applied based on either a visual inspection or a biopsy of the lesion.
ATYPICAL MELANOCYTIC LESIONS DIAGNOSED WITH VISUAL INSPECTION
Visual examination of skin can often identify suspicious lesions requiring further evaluation. Five visual characteristics are used to identify the risk of invasive melanoma:
A - asymmetry of lesion shape
B - borders that are irregular or blurred
C - color that is variable within a single lesion or different from other moles
D - diameter greater than 6 mm
E - evolution of a mole's appearance - size, color, or shape
These are indicators for  a biopsy to rule out melanoma.
ATYPICAL MELANOCYTIC LESION DIAGNOSED ON A BIOPSY
Atypical melanocytic lesions are pigmented moles that have been found to have abnormal cells and are assumed to be at risk for developing into a malignant melanoma. These lesions, once diagnosed as atypical, are typically excised to eliminate the risk of cancer. Although this seems like a prudent approach, scientific evidence for this is frequently lacking. Rationale for excision is based on clinical standards for treating melanoma-in-situ or lentigo maligna.
There are three levels of classification of atypical melanocytic lesions:
mild atypia in a melanocytic lesion
moderate atypia in a melanocytic lesion
severe atypia in a melanocytic lesion
Most pathologists regard mild and moderate atypia synonymously.
Only melanoma-in-situ has adequate evidence to support surgical excision. This particular lesion carries a 5-10% risk of degenerating into malignant melanoma over a 50 year lifetime. This breaks down to a risk of 1-2% per decade. What no one knows is the risk of the atypical melanocytic lesions. Logic would dictate that the risk would be even lower - if present at all.
The complete diagnosis of a melanocytic lesion requires a complete excision. These lesions frequently exhibit heterogeneity - variability of abnormality. In other words a lesion with moderate atypia may contain areas of melanoma-in-situ within it. Melanoma-in-situ lesion may contain areas of invasive malignant melanoma. Frequently, this variability is visible with a naked eye and guides clinical decision making.
The controversy arises when a biopsy is read as atypical melanocytic lesion with involved margins, and the pathologist recommends additional margin excision. From pathologist's perspective only a complete lesion removal allows for a definitive diagnosis. Complete excision of these atypical melanocytic lesions requires 2 mm margins around the visible lesion for complete clearance. Although most surgeons will not hesitate to excise these lesions completely, scientific evidence to support such approach is lacking. There little evidence that incomplete excision and subsequent lesion recurrence exposes the patient to a greater invasive melanoma risk.  Furthermore, cosmetic considerations may be significant in sensitive areas such as the nose or eyelids. Additional 2 mm margins on all sides of the lesion can drastically change the reconstruction and the outcome. So, each patient and each lesion musts be treated with individual considerations and not necessarily rigid protocols.
For in depth discussion of the risks of atypical nevi read this article.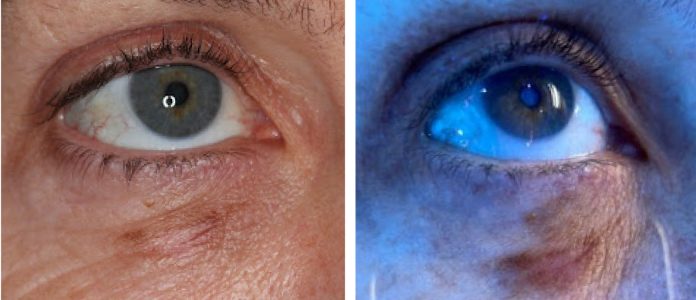 HISTORY A 57-year-old woman presents with two year hisory of right under-eye pigmentation. Shave biopsy by an outside office diagnosed MMIS, lentigo maligna type. Evaluated under Wood's Lamp. Patient will be getting treatment at an outside office. DISCUSSION Evaluation of pigmented lesions with blue light There are multiple aspects to evaluating pigmented lesions, the most…
Read More

→
STAY UP TO DATE
Receive research updates, inspiring stories, healthy living tips and more.
CME ACCREDITED SKIN CANCER CONFERENCE
Earn your CME credits at the SCARS Foundation Monthly Skin Cancer Conference
ELEVATING THE STANDARDS OF SKIN CANCER MANAGEMENT.