HISTORY
An 84-year-old man presented with a 7-month history of 2.5 cm ulcerated nodule of the scalp. Biopsy showed a poorly defined neoplasm consistent with a leiomyosarcoma. Wide local resection with 1 cm margins cleared the tumor. The 5 cm scalp defect was reconstructed with multiple large scalp rotation flaps.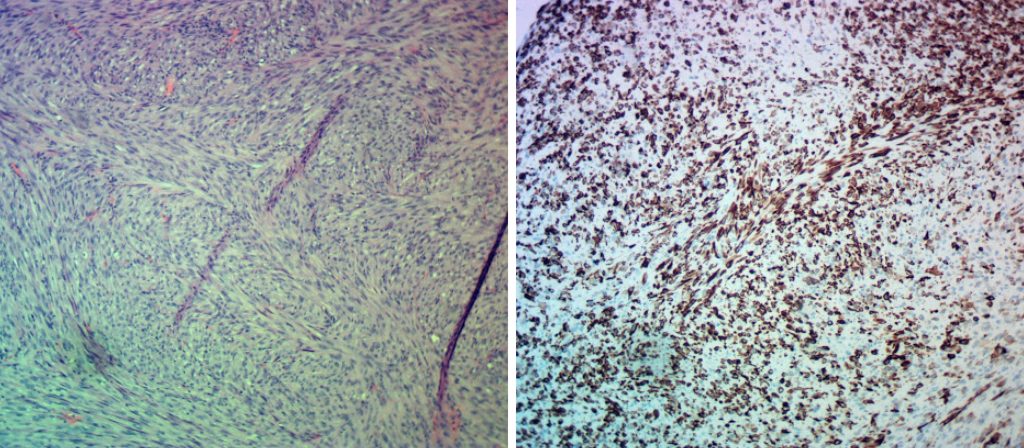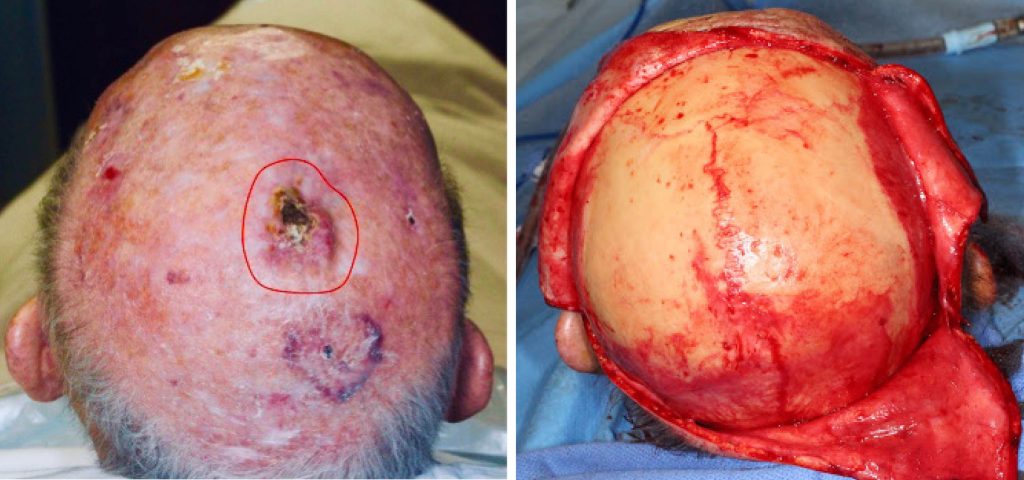 DISCUSSION

Spindle cell neoplasms of the skin have a differential diagnosis of 4 tumor types: pleomorphic dermal sarcoma – AFX spectrum, spindle cell melanoma, spindle cell SCC, and leiomyosarcoma (LMS). Differentiation is based on immunohistochemistry. Pleomorphic sarcomas stain with CD10 and CD68, melanomas stain with SOX10 and S100 (as well as HMB45 and Melan A), SCC's stain with cytokeratin, and leiomyosarcomas with desmin (as well as smooth muscle actin, vimentin, and ki 7 marker).

Leiomyosarcomas (LMS) are smooth muscle tumors and are divided into 3 types:
Dermal / Cutaneous – arising from arrector (erector) pili muscle
Subcutaneous – arising from smooth muscles of blood vessels
Metastatic to skin from other skin or visceral primaries (uterus, GI tract, vena cava). Scalp is a destination for a disproportionate number of metastases
LMS occurs mostly in the 6th and 7th decade of life. Its risk of recurrence and distant metastases is significant, especially with the subcutaneous types:
Dermal types recur 15 – 35% and metastasize distally 5 – 15%
Subcutaneous types recur 20 – 50% and metastasize distally 25 – 50%
Lymph node metastases are uncommon
The data is drawn from Mayo Clinic review of its experience and published studies. Significant variance exists as treatment methods, and follow-up has varied widely.
Winchester DS, Hocker TL, Brewer JD, Baum CL, Hochwalt PC, Arpey CJ, et al. Leiomyosarcoma of the skin: clinical, histopathologic, and prognostic factors that influence outcomes. J Am Acad Dermatol. 2014;71:919—25.

Treatment should involve wide local resection with margins of 1 – 3 cm. Deep margins can include fascia and muscle or the underlying bony cortex. Mohs micrographic surgery can be employed for dermal LMS. Local post-operative radiation therapy should be considered for more aggressive tumors but is not yet supported by the literature.

Staging of dermal LMS involves MRI to evaluate depth of invasion and a chest X-ray to rule our metastases.

Staging for subcutaneous LMS should also include CT of chest and abdomen to rule out a deep primary LMS.

Long follow-up period of LMS (5-10 years) is required as recurrences and metastases occur over a 10-year period.