Severe Lichenoid Drug Eruption from Pembrolizumab
HISTORY
An 88-year-old woman with a six-month history of a diffuse, pruritic eruption that includes thick, hypertrophic leg lesions with accompanying edema, ulcerations, weeping exudates and pain. The eruption started during a course of pembrolizumab (keytruda) infusions for high risk melanoma of the left great toe. Last Keytruda infusion was three months ago.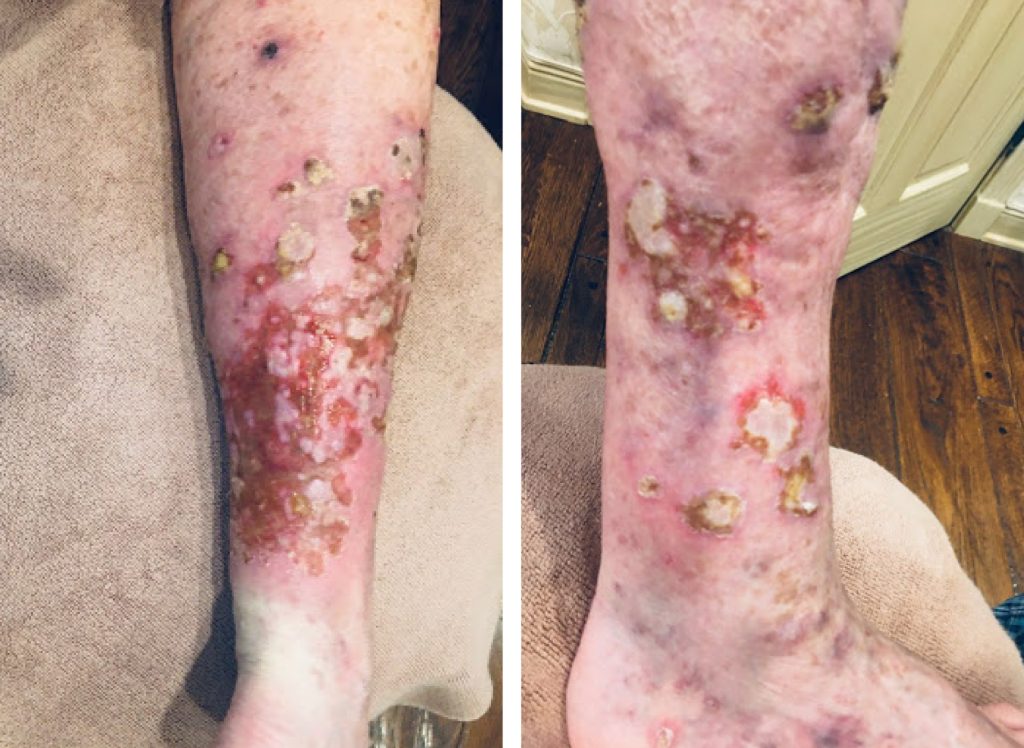 DISCUSSION

Pembrolizumab, commonly known as Keytruda, is an immunotherapy or biological therapy that works with a patient's immune system to help fight cancers. It is used to treat cancers ranging from lymphomas to gastrointestinal cancers to triple negative breast cancers. Oncologists also use Keytruda to treat dermatological malignancies including cutaneous squamous cell carcinomas and melanomas. Keytruda can be used in non-surgically resectable, metastatic cutaneous squamous cell carcinomas or malignant melanomas. It can also be used in advanced, surgically cleared melanomas to prevent recurrence.

Keytruda works by blocking the Programmed cell death receptor-1 (PD-1 pathway). In a healthy patient, the immune system uses T cells to detect and fight infections and diseases. It is hypothesized that cancer cells "hide" from T cells using the PD-1 pathway, which allows the cancer cells to replicate and spread without being attacked by the immune system. By blocking the cancer's PD-1 pathway, Keytruda helps the patient's own immune system detect and fight the cancer cells. As a result, immunotherapy with Keytruda has significantly improved the prognosis of advanced and metastatic skin cancers.

Ribas et al performed a phase II clinical trial of 540 melanoma patients and compared treatment outcomes of pembrolizumab to chemotherapy1. The study found an objective response rate (ORR) of 46% for the group treated with 10mg/kg pembrolizumab while only 8% ORR for the chemotherapy treatment group1. The progression-free survival (PFS) rate after 6-months was 38% in the 10mg/kg pembrolizumab group compared to 16% PFS in the chemotherapy group1.

Schachter et al analyzed the outcomes for patients with advanced melanoma treated with pembrolizumab versus ipilimumab, an alternative option for immunotherapy, in a phase III clinical trial2. The overall survival (OS) rate was 55% for the group treated with pembrolizumab and only 43% OS for the ipilimumab group2.

Common side effects of Keytruda include fatigue; muscle, joint, and bone pain; gastrointestinal issues such as abdominal pain, nausea and diarrhea; and rash. Most of these side effects are mild to moderate. Occasionally, they can be severe and debilitating.

Biopsy of the presenting patient's lesions showed lichenoid dermatitis with occasional eosinophils.This pathology diagnosis can be idiopathic or drug induced, and can be clinically indistinguishable without a good history. Given that the patient was on Keytruda for an advanced melanoma, the drug eruption was attributed to Keytruda. Management included withholding Keytruda, applying topical silver sulfadiazine cream in the mornings and halcinonide cream in the evenings, elevating the legs daily, and oral steroids. She was eventually transitioned to intravenous immunoglobulin (IVIG) therapy with continued improvement.

References
1) Ribas A, Puzanov I, Dummer R, et al. Pembrolizumab versus investigator-choice chemotherapy for ipilimumab-refractory melanoma (KEYNOTE-002): a randomised, controlled, phase 2 trial. Lancet Oncol. 2015;16(8):908-918. doi:10.1016/S1470-2045(15)00083-2

2) Schachter J, Ribas A, Long GV, et al. Pembrolizumab versus ipilimumab for advanced melanoma: final overall survival results of a multicentre, randomised, open-label phase 3 study (KEYNOTE-006). Lancet. 2017;390(10105):1853-1862. doi:10.1016/S0140-6736(17)31601-X

3) "A Breakthrough Immunotherapy that may help you face your cancer." KEYTRUDA® (Pembrolizumab) Injection 100 Mg,