CHEEK BASAL CELL CARCINOMA RECURRENCE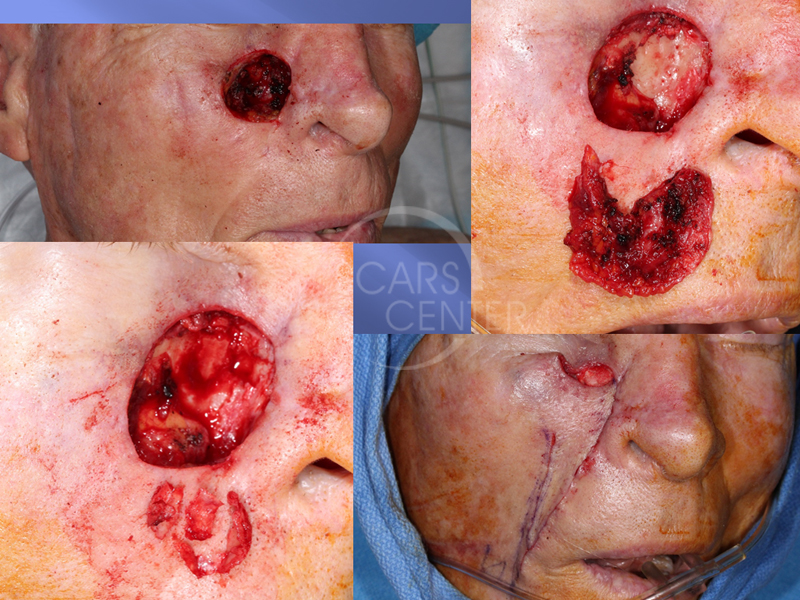 Additional soft tissue margin for permanent histology, additional bone margins for permanent histology, partial reconstruction with inferior nasolabial fold/cheek island flap.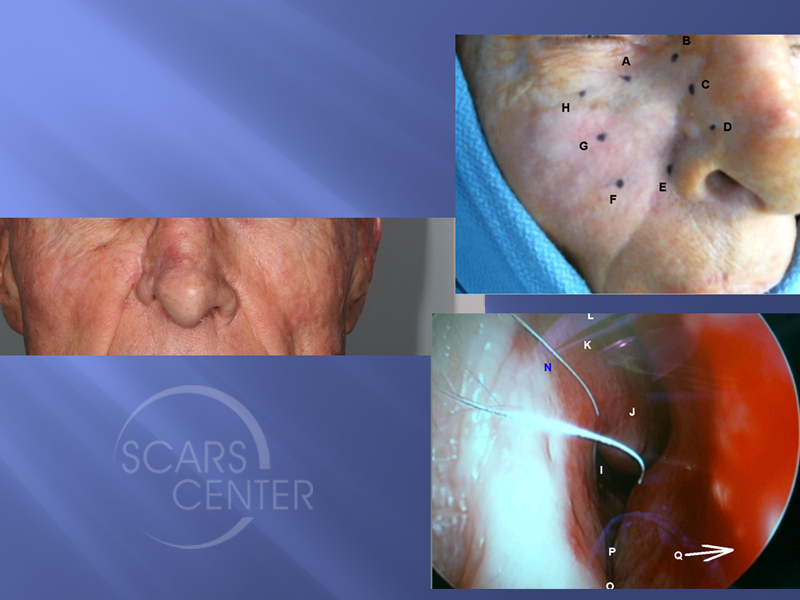 HISTORY
83 year old man presented in 12/2016 with a 3 month history of a growing painful subcutaneous nodule at the right cheek nasal junction. A biopsy revealed infiltrative basal cell carcinoma. The nodule is under the scar of basal cell carcinoma removed 11 years ago. Mapping biopsies of the right cheek and nose were negative for extensive spread beyond the palpable tumor.
DISCUSSION
This is an interesting case of an 83-year-old man, who underwent basal cell carcinoma resection 11 years ago of the right nasal sidewall. He underwent forehead flap reconstruction and has been symptom free until about a year ago, when he developed a palpable nodule in the nasal sidewall. This nodule was not in the dermis as the dermis was freely mobile over the nodule and the nodule was also not on the bone as the nodule itself was mobile over the underlying bone of the maxilla and the nasal bone. A deep punch biopsy reveals this to be basal cell carcinoma. This was presumed to be a recurrence from a Mohs excision 11 years ago.  This is a record for our conference in terms of recurrence post Mohs excision.
Prior to undergoing treatment of this patient, a catastrophic recurrence must be ruled out.  11 years is a long time for basal cell carcinoma to grow. In some cases, it may spread extensively into the bone and into the nasal cavity. Therefore, mapping biopsies were performed. Skin and intranasal mucosal biopsies were performed to rule out a catastrophic spread. Fortunately for this patient, all the biopsies were negative and Mohs excision was undertaken. Clear margins were obtained, but given the proximity to the bone and the nature of this recurrence, the patient was not definitively reconstructed. Additional margins were taken for permanent sections. Additional deep soft tissue was taken, and a portion of the maxilla and nasal bone was chiseled off superficially. Once that was found to be clear of tumor, the patient was reconstructed. If the deeper permanent sections were found to be involved the basal cell carcinoma, then the patient would have required a larger resection of the medial maxilla and nasal bones.
This case illustrates staging and planning of reconstruction of cancers that could be potentially catastrophic. Assumptions based on only a clinical examination of the nodule is not enough to plan the surgery. Therefore, we strongly urge that mapping biopsies in these cases be performed.