When to do Curettage and Electrodessication (C&D)
HISTORY
A 95-year-old woman presents with a 4+ year history of multiple growing lesions of forehead and scalp. These were initially asymptomatic and the patient chose not to seek treatment. She did not present for evaluation and treatment until 2 of the lesions became painful and began to bleed. Shave biopsy of 2 of the largest lesions by an outside provider revealed squamous cell carcinomas of the left temple and right upper forehead. The patient was referred to our office for treatment of these tumors. On initial consultation, patient remained unbothered by other lesions (clinically consistent with squamous cell carcinoma), and requested treatment of symptomatic lesions only. Though frail, she is of generally good health and cognitive status.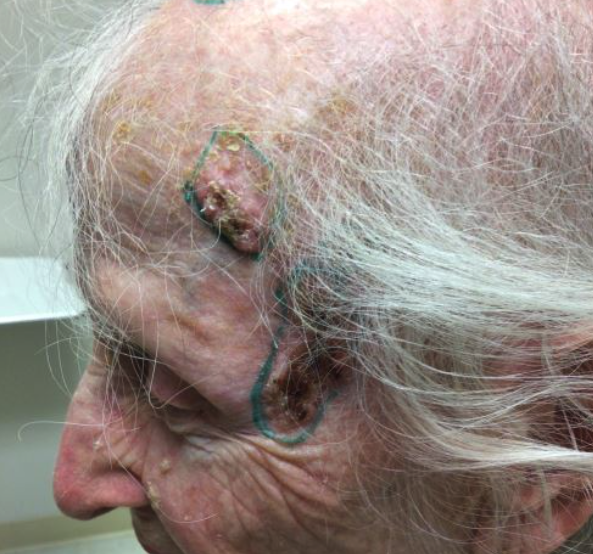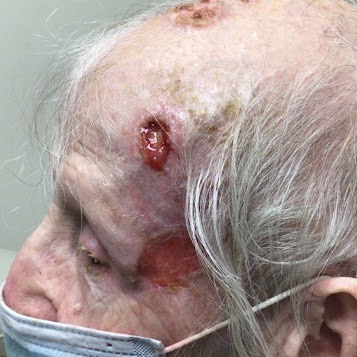 How would you treat this patient?
Mohs surgery and reconstruction
Mohs surgery and healing by secondary intention
Curettage and electrodessication
Cryosurgery
Medical treatment, such as cemiplimab (Libtayo) infusions
DISCUSSION

While treatment of this patient is not clear-cut and multiple options could be pursued, in this case after extensive discussion with the patient of the risks and benefits of various options, decision was made to treat the two symptomatic tumors with curettage and electrodessication. The post-operative course was uneventful, with gradual healing of each defect. No recurrence was noted as of last follow-up on 1/21/22. The patient reported minimal pain at any point post-procedure and no longer reports any pain or bleeding at either site. Patient's satisfaction with this treatment course remains high. She has declined treatment for other tumors at this time, but would prefer to treat remaining tumors with C&D should they become symptomatic.
Curettage and Electrodessication:
Advantages:
Quick and easily tolerable procedure
Effective in debulking large tumors
Disadvantages:
Prolonged healing by second intent
Relatively high recurrence rate for invasive tumors
Mohs and Reconstruction:
Advantages:
Disadvantages:
While one or two surgical defects could be reconstructed, options for reconstruction of all sites are limited to impossible.
Mohs and Healing by Secondary Intention:
Advantages:
Disadvantages:
Tumors of this size are likely to extend to periosteum or bone. If bone is exposed, second intent healing is extremely slow and the resulting defects may remain symptomatic and prone to complications for many months.
Cryosurgery:
Advantages:
Rapid
Potential to treat each clinically apparent tumor
Disadvantages:
Unacceptably high recurrence rate for deep tumors
Potential for significant pain/inflammation/blistering with extended LN2 therapy (literature suggests need for 30+ seconds of sustained freezing to effectively treat even thinner tumors)
Medical Treatment (e.g. Libtayo – cemiplimab):
Advantages:
No procedures required
May effectively treat each tumor
Disadvantages:
Relatively high incidence of side effects, some serious
Not effective in all patients
Unclear duration of treatment required
Expensive
Citation
MCCLEAN, M., DAVIS, M., LADD, R., MORRIS, C., & GOLDA, N. (2020). Recurrence Rates of Nonmelanoma Skin Cancer After Malignant Destruction: A Single-Center Retrospective Analysis of 984 Tumors. Dermatologic Surgery, 46(7), 975–977.