A Modern Test for Melanoma
DecisionDx Melanoma is enhancing medical decision making in invasive melanoma stages I, II, and III.. Management of cutaneous melanoma involves strategic risk assessment and oncologic work-up. This typically includes staging, wide local excision, and possible sentinel lymph node biopsy or biologic therapy.
Traditionally, surgeons perform a sentinel lymph node biopsy (SLNB) if the possibility of a positive node is greater than 5%. Risk factors for positive SLNB include younger age and melanomas with >1mm Breslow depth, ulceration, and/or regression. Before DecisionDx, sentinel lymph node biopsy was highly considered in any melanomas with >1mm depth.
However, the integrated test offers a more precise and personalized risk predictor to better identify patients who could forgo SLNB. Approximately 88% of patients who undergo sentinel lymph node biopsy have negative results, meaning they remain categorized as low risk. Additionally, the test helps identify patients who should be offered a SLNB that may have been missed. Statistically, two out of three patients who develop metastatic disease and die from a primary melanoma were initially classified as stage I or II. The test determines a gene expression profile (GEP) score which represents a ratio of tumor down regulators and upregulators and identifies high risk tumors. The GEP score correlates with 1A (lowest), 1B/2A (increased), and 2B (highest) risk of recurrence and/or metastasis in 5 years.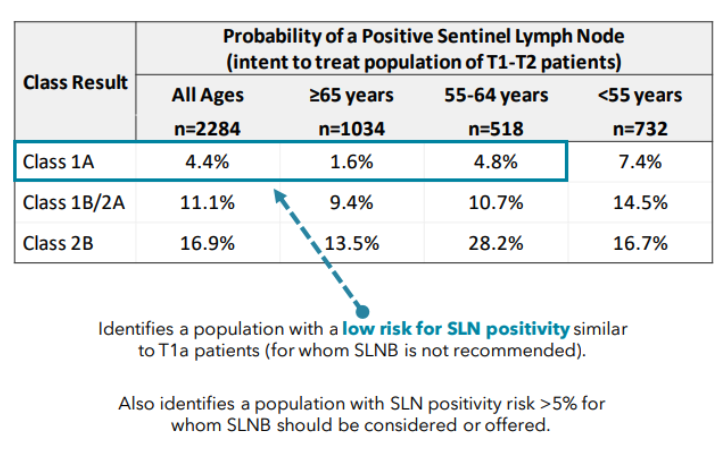 The current test also offers an i-31 GEP algorithm that utilizes the GEP score, Breslow thickness, ulceration rate, mitotic rate, and age to determine a personalized estimate of the likelihood of sentinel lymph node positivity.
At SCARS Center, we currently utilize the test to determine which patients may benefit from a SLNB and to guide follow-up and overall management. We are also a study site for CastleBiosciences which is currently collecting data to continue to optimize the test and its impact on melanoma management.