The Rare Skin Cancers: Sebaceous Carcinomas
HISTORY
A 67-year-old man presents w/ a painful right cheek scar s/p Mohs and reconstruction of sebaceous carcinoma done on 4/2019 complicated by salivary fistula. History of drained hematoma and leaking parotid gland s/p surgery. 0.3cc of kenalog 10 mg/cc injected on 9/30/21. Excision of right cheek scar with reconstruction done on 11/29/21.
DISCUSSION
Sebaceous cell carcinomas of the skin derived from sebaceous oil glands are extremely rare and make up only 1-2% of skin cancers.1,2 It has been consistently reported that the most common tumor location is the ocular region. Recent studies also show prevalence of carcinoma in extraocular areas as seen in our case. These lesions usually present as yellow/orange, painless nodules that occasionally bleed.1,2 Studies have shown a link between Muir-Torre syndrome and sebaceous carcinomas, and an association with ultraviolet radiation and immunosuppression.1,3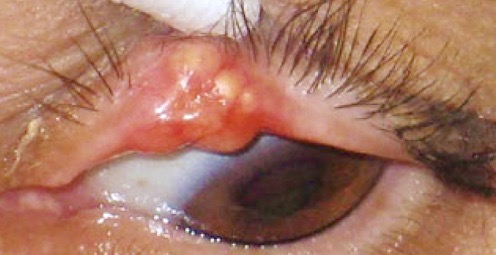 Treatment of sebaceous carcinomas includes Mohs micrographic surgery or wide-local excision.1 For advanced and unresectable tumors pembrolizumab, brand name Keytruda, is an FDA approved topical treatment.1 Currently there are no guidelines regarding radiotherapy use, but postoperative radiation is supported in the literature.4 Studies have advocated for physicians to perform Sentinel Lymph Node Biopsies for sebaceous carcinomas of the ocular regions but often just recommend observation of extraocular tumor regional lymphatics.1,5

Sebaceous carcinomas can be aggressive and require long-term follow up and monitoring by physicians. A retrospective study found an overall rate of metastasis of 2.4% with higher prevalence of ocular sebaceous carcinomas.5 The 5-year survival rate for these carcinomas is 78% for localized/regional disease and 50% for metastatic disease.1 The recurrence rates for periocular tumors is 4-37% and 4-29% for extraocular tumors.6 Patients should follow up for regular skin checks with their Dermatologist to assess for evidence of recurrence or new lesions.

Despite the possible aggressive behavior of these sebaceous carcinomas, there are limited long term follow up or large-cohort population based studies.
Citations

1. Sargen, Michael R., et al. "Sebaceous carcinoma epidemiology and genetics: Emerging concepts and clinical implications for screening, prevention, and treatment." Clinical Cancer Research 27.2 (2021): 389-393.
2. Jorge, O. Guerrissi, and Pablo Quiroga Juan. "Adnexal carcinomas of the head and neck." Indian Journal of plastic surgery 41.02 (2008): 229-234.
3. Crowson, A. Neil, Cynthia M. Magro, and Martin C. Mihm. "Malignant adnexal neoplasms." Modern pathology 19.2 (2006): S93-S126.
4. Waqas, Omer, et al. "Retrospective study of rare cutaneous malignant adnexal tumors of the head and neck in a tertiary care cancer hospital: a case series." Journal of medical case reports 11.1 (2017): 1-6.
5. Tryggvason, Geir, Rodrigo Bayon, and Nitin A. Pagedar. "Epidemiology of sebaceous carcinoma of the head and neck: implications for lymph node management." Head & neck 34.12 (2012): 1765-1768.
6. Knackstedt, Thomas, and Faramarz H. Samie. "Sebaceous carcinoma: a review of the scientific literature." Current treatment options in oncology 18.8 (2017): 1-13.