Desmoplastic / Spindle Cell Melanoma of the Scalp
A 67-year-old man with CLL presents with 3 month h/o 3 cm dense dermal growing scalp mass. Incisional biopsy showed spindle cell melanoma. The tumor was resected with a 2 cm margin. Final pathology showed malignant melanoma—spindle cell / desmoplastic type. Additional 1.2 cm margin was resected for wide clearance creating a 10 x 9 cm defect. Multi-flap reconstruction was performed. The patient was treated postoperatively with PD-1 inhibitor, pembrolizumab (Keytruda).


Desmoplastic melanoma and spindle cell melanoma are two distinct melanoma subtypes that differ clinically and histologically. These represent a spectrum of subtypes that have variable spindle cell cellularity and collagen density. There is a difference in recurrence rates, lymph node metastases, and mortality. Clinical approach should be nuanced based on this data.
At SCARS Center, we attempt to simplify this information with a knowledge chart that summarizes the facts and highlights the controversies.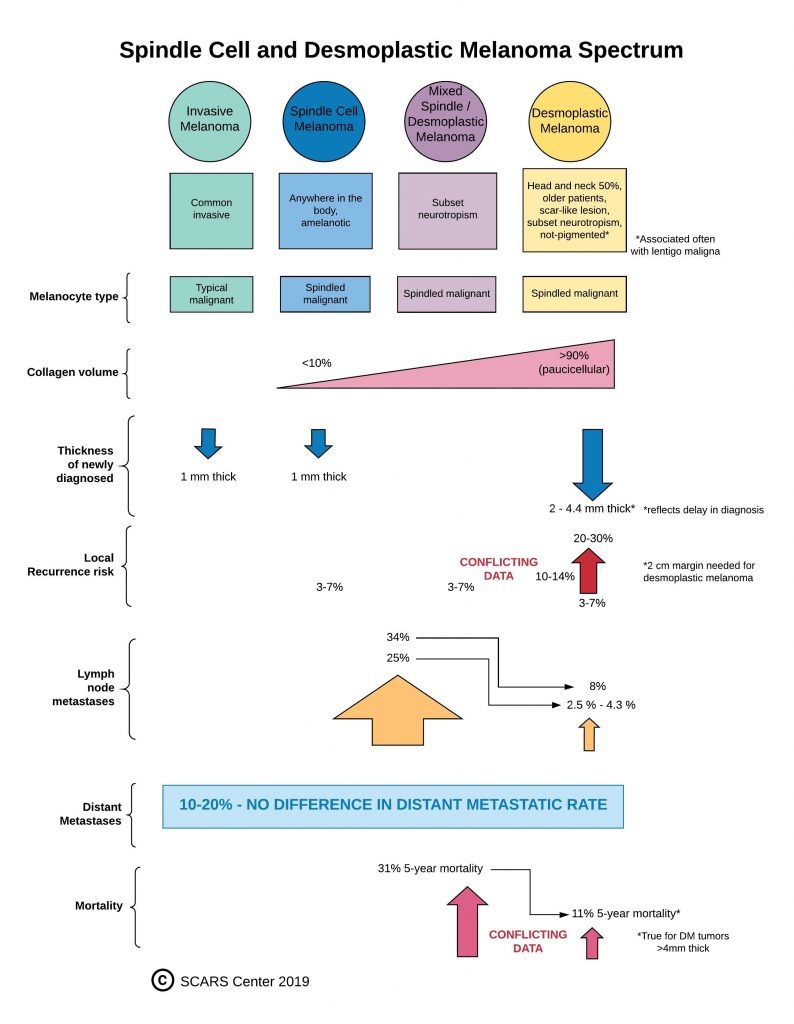 References:
Wasif N, Gray RJ, Pockaj BA. Desmoplastic melanoma – the step-child in the melanoma family?. J Surg Oncol. 2011;103:158-162
Weissinger SE, Keil P, Silvers DN, Klaus BM, et al. A diagnostic algorithm to distinguish desmoplastic from spindle cell melanoma. Mod Pathol. 2014;27:524-534
Nicolson NG, Han D. Desmoplastic melanoma. J Surg Oncol. 2019;119:208-215.
Han D, Zager JS, Yu D, Zhao X, et al. Desmoplastic melanoma: is there a role for sentinel lymph node biopsy?. Ann Surg Oncol. 2013;20:2345-2351.