Multiple Cutaneous Carcinomas in Organ Transplant Recipients
HISTORY
A 73-year-old kidney transplant recipient presented with multiple carcinomas including SCC, SCC in situ, and BCC of the face and scalp.

DISCUSSION

Organ transplant recipients can suffer from multiple cutaneous carcinomas. Some lesions can have a high risk of metastases, but most occur in multitudes in areas of extensive sun exposure. At SCARS Center, we developed a multi-prong approach to these patients that includes surgery, superficial radiation therapy (SRT), and intralesional 5-fluorouracil injections.
This patient presented with over 18 lesions on his scalp and face. Twelve Lesions were treated within one month of the first stage of management. Initially two scalp lesions were determined to be high risk due to depth of invasion and ulceration. These two lesions were treated with sentinel lymph node biopsies and Mohs excision with reconstruction.

Shortly after, intralesional 5-fluorouracil injections began of 7 lesions including medial canthus, ear conchal bowl, forehead, and scalp. Pathologies treated were SCC of scalp and forehead, SCC in situ of left medial canthus, and BCC of conchal bowl. 200 mg of 5-FU total was administered per session divided among each lesion. Six injection sessions were performed once or twice weekly.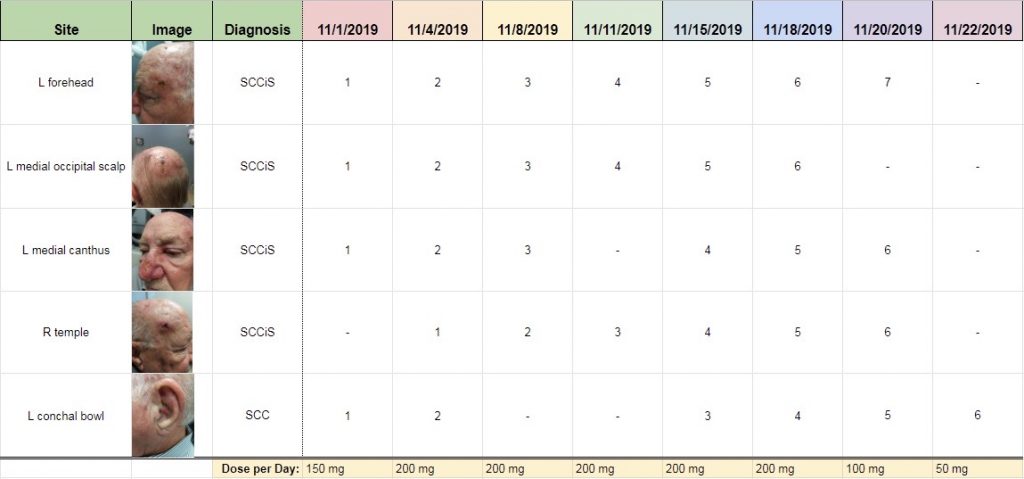 At the same time, 3 lesions were treated with SRT on nasal ala, tip, and dorsum. The pathology was BCC and SCC. Fractionation was 3 days per week for 4 weeks.
Within 1 month of treatment start, patient completed 2 Mohs excisions with sentinel lymph node biopsies, 3 carcinomas treated with SRT, and 7 carcinomas treated with intralesional 5-fluorouracil. Second stage treatment of remaining head and neck lesions will start 2 months later.
Patients overwhelmed with cutaneous carcinomas require an overwhelming approach with "all-of-the-above" modalities. A team approach is required. At SCARS Center, these patients are managed by dermatologists, surgical oncologists, physician assistants, and multiple medical assistants. Documentation of intralesional 5-FU injections requires a system outside of the traditional EMR. We use a Google Sheet with imported images of the treatment sites. (see above)