Superficial Radiotherapy – An Alternative Treatment of Superficial Carcinomas
First successful treatment of skin cancer with fractionated radiation therapy was reported by Steinbeck and Sjogren in Sweden in 1899. Since then, superficial radiation and low energy Grenz X-rays have been utilized in office settings by radiation oncologists and dermatologists for the same purposes. In the United States, the practice continued through the 1970's and waned in 1980's as the popularity of Mohs surgery pushed out Grenz X-rays from the dermatologists' offices. For radiation oncologists, availability and versatility of megavoltage linear accelerators (LINAC) have encouraged their use for skin cancers. The use of low energy Grenz X-rays virtually disappeared. Recently, superficial radiotherapy has been re-introduced to the medical community by technological innovations and entrepreneurship by companies such as Sensus. This renewed technology – superficial radiotherapy (SRT) – has been well studied in its application to superficial Basal and Squamous Cell carcinomas. It was found to have similar efficacy to Mohs surgery. SRT utilizes energies in the 50 to 100 kV range with cure rates upwards of 96%. Of course, fractionation regimen and specific clinical applications play critical roles in success of superficial radiotherapy.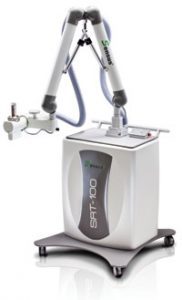 The main advantage of SRT is that it can be utilized outside of major radiation oncology centers for a fraction of the cost and with greater reliability than LINAC's. Non-melanoma skin cancers (BCC, SCC, and Bowen's lesions) are candidates for this treatment. Poor surgical candidates due to patient fears, cosmetic outcome concerns, medical problems, and anti-coagulation therapy may be well-suited for SRT.
Studies and clinical experience have confirmed that shorter treatment schedules over 2-3 weeks have excellent cures and cosmetic effects. This treatment success compares well to Mohs surgery. It has a lower side-effect profile than topical chemotherapy such as imiquimod and fluorouracil – less erythema reaction and duration of side effects . Very abbreviated course of treatment with 5 treatment over 2 weeks can be effective, particularly in frail elderly patients who have difficulty tolerating even office visits. Flat facial locations can be easily treated with SRT. Extensive cancers with complex curving of the involved skin such as in the nasal tip and alar base are best managed with complex treatment plans of linear accelerators if radiation is the chosen modality.
With introduction of SRT, Skin Cancer and Reconstructive Surgery Center now completes the full spectrum of treatment options for our patients. Patient acceptance of this new modality is high given the ease and convenience of this treatment.
For more information on this technology contact us or visit our website for more information OCSkinCancer.com/SRT.