Intralesional 5-fluorouracil for Cutaneous BCC and SCC
HISTORY
An 86-year-old man on hemodialysis with multiple medical problems and on warfarin presented with two carcinomas of the nasal tip: BCC of the left nasal tip and SCC of the right nasal tip. The ulceration of the right SCC exposed the alar cartilage. Patient completed six (6) 5-fluorouracil injections over a 5-week period. Complete clinical response was achieved.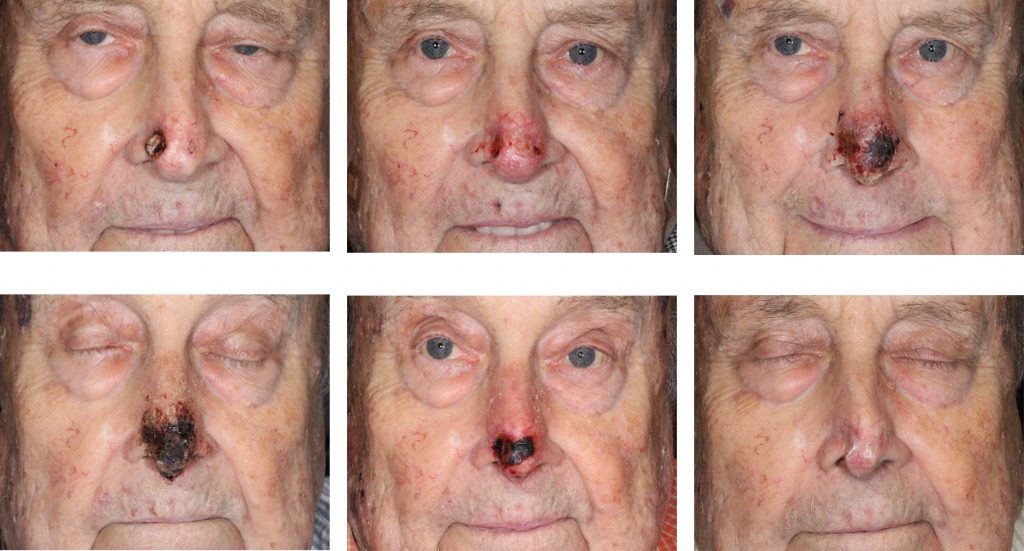 DISCUSSION
This patient's severe medical problems and chronic anticoagulation made surgical options for nasal cancer treatment problematic. This excision defect would have been large, involving most of the nasal tip. Multiple flap reconstruction that would have been required was not feasible leaving this patient with a severe deformity.

Radiation therapy would not have been practical given the full thickness ala involvement and alar cartilage involvement. In these cases, the radiation therapy compromises the tenuous blood supply on the surface of the cartilage and decreases vascular supply in the full thickness tumor of the alar rim. This phenomenon results in areas of hypoxia around the cancer. The cancer cells become hypometabolic escaping radiation mechanism of cancer apoptosis.

Link: https://scarscenter.com/basal-cell-carcinoma/recurrent-bcc-of-the-external-ear-after-radiation/
Systemic therapy would have involved Erivedge (vismodegib) for the BCC and Xeloda (capecitabine) for the SCC. Both treatments have significant toxicities and would not have been tolerated by this patient.

This patient was treated instead with 6 intralesional injections of 5-FU for a total of 300 mg of 5-FU over the 5 week course. He achieved a complete clinical response.

There is only one nonsurgical alternative for treatment of deeply invasive basal cell carcinoma and squamous cell carcinoma that is not radiation. That treatment is intralesional chemotherapy. It is a rarely employed and actually works. Although 5-fluorouracil is the most common intralesional chemotherapeutic option for BCC and SCC, many other agents have been shown to be as effective. They include bleomycin and various interferon subgroups. For squamous cell carcinomas, intralesional methotrexate has also been shown to be effective.
Several studies published on the subject show various 5-fluorouracil treatment regimens. The average intralesional 5-FU course occurred 1 to 3 times per week and lasted 2 to 8 weeks. The dose of IL 5-FU (50 mg/ml concentration) ranged from 10-150 mg per injection. The median dose was approximately 50 mg (1cc). The results are impressive with cure rates in the high 90th percentile. What makes this treatment unproven is the limited follow up of these studies of 2 years or less.

A drawback of the treatment is the pain associated with the injection of the drug. Mixing 5-FU with lidocaine helps with this discomfort. Nasal tip injections in our patient required a complete nasal block. This was done with bilateral lateral pyriform aperture blocks, nasal spine block, topical anesthesia of the septum, and supratip infiltration.
References
Metterle L, Nelson C, Patel N. Intralesional 5-fluorouracil (FU) as a treatment for nonmelanoma skin cancer (NMSC): A review. J Am Acad Dermatol. 2016;74:552-557.

Kirby JS, Miller CJ. Intralesional chemotherapy for nonmelanoma skin cancer: A practical review. J Am Acad Dermatol. 2010;63:689-702.

Kurtis B, Rosen T. Treatment of cutaneous neoplasms by intralesional injections of 5-fluorouracil (5-FU). J Dermatol Surg Oncol. 1980;6(2):122-127.