Skin Cancer Connection Newsletter
The Skin Cancer Connection communicates in-depth diagnoses and treatments for complex skin cancer cases. It features summaries of cases presented at our monthly conferences.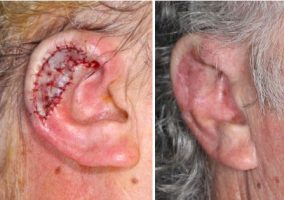 DISCUSSION Subtotal ear reconstruction is a challenging surgical task that often requires non-traditional techniques. This particular patient was treated with an alloplastic implant and rib cartilage grafts. We utilized Medpor Helical Rim implant, a porous polyethylene material (Stryker, USA) used for microtia reconstruction. The implant was used for its elegantly curved helix. The rib cartilage…
Read More

→
STAY UP TO DATE
Receive research updates, inspiring stories, healthy living tips and more.
CME ACCREDITED SKIN CANCER CONFERENCE
Earn your CME credits at the SCARS Foundation Monthly Skin Cancer Conference
ELEVATING THE STANDARDS OF SKIN CANCER MANAGEMENT.