Treatment Considerations for Melanoma In-Situ
HISTORY
A 22-year-old woman presented with left upper lip lesion. Tape testing showed positive for LINC00518 and PRAME. Excisional biopsy was performed showing atypia on the preliminary results.

DISCUSSION
Management of melanoma in-situ can be especially challenging in cosmetically sensitive areas such as the lip. Traditional management options for melanoma in-situ include surgical excision, topical treatment with imiquimod (Aldara), or even superficial radiation therapy (SRT).

Wide local excision of melanoma in-situ traditionally involves 5mm to 10mm margins. The excised tissue is sent to a dermatopathologist to ensure clear margins. Traditionally, the defect is repaired immediately. However, immediate reconstruction leaves a risk of positive margins and the need for additional excision after reconstruction is performed. An alternative approach is performing a temporary direct closure or temporary closure with porcine or bovine skin xenograft. In this case, the pathology order is sent "stat", and once clear margins are confirmed a few days later, the full reconstruction is performed. Although the patient has a temporary closure that is not always aesthetically optimal, the patient can function normally without much wound care. This approach also reduces the risk of undergoing two full reconstructive surgeries.

Mohs excision involves a series of excisions with real-time pathology interpretations of frozen sections until the melanoma in-situ is fully removed. Mohs excision is most commonly performed on squamous cell cancers (SCC) and basal cell carcinomas (BCC). While it can be performed on melanoma in-situ, it requires a Mohs surgeon with special skills in melanoma frozen pathology. The interpretation of melanoma frozen pathology is often less reliable than that of formalin fixed permanent pathology due to superior staining of traditional permanent pathology.

Treatment with topical imiquimod may be recommended in patients that are elderly, have extremely large melanoma in-situ, or are not good surgical candidates. Treatment with imiquimod involves 2-3 months of application to the area which initiates a robust immune response. Imiquimod causes redness and irritation in the affected area. The area must also be re-evaluated for clinical clearance or re-biopsied to confirm clearance after the treatment course. In our healthy 22 year old female patient, this is not recommended as the primary treatment but can be considered after clear surgical excision to decrease the risk of recurrence from any scattered cells left behind.

Superficial radiation therapy may be considered in certain anatomical areas. In lentigo maligna type melanoma in-situ, clearance with radiation is estimated to be up to 95%. (Erickson, Miller, 2010). However, recurrence is a risk. Cosmetic outcomes with radiation are typically good when done in appropriate locations, but 20% of patients in one study had significant atrophy, hypopigmentation and/or telangiectasias (Hendricks, et. al, 2020).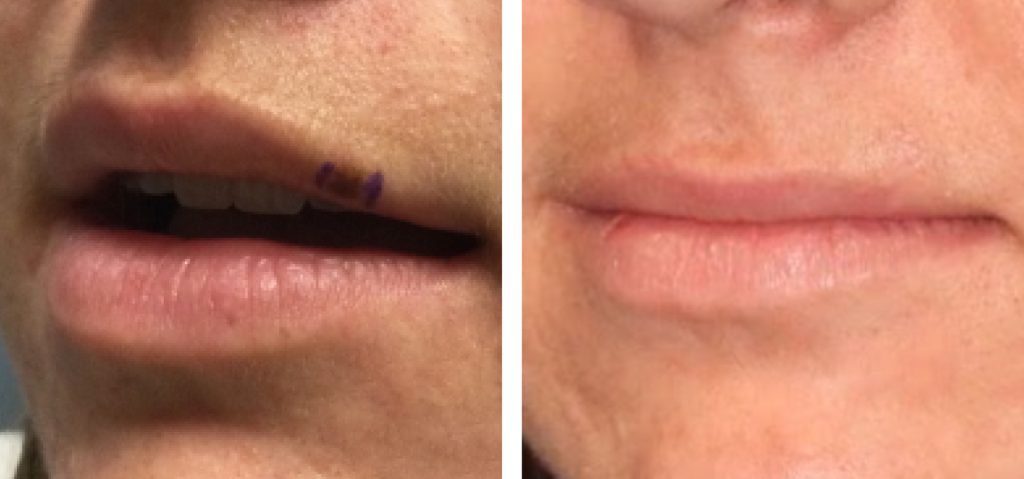 This patient's case was presented at our monthly skin cancer conference. The consensus was to proceed with wide local excision of the upper lip melanoma in-situ with temporary direct closure and "stat" pathology results. After confirming margin clearance, the patient will undergo reconstruction to optimize the aesthetic outcome.