Monthly Skin Cancer Conference
Monthly Skin Cancer Conference
SCARS Foundation Skin Cancer Conference is attended by a variety of physicians interested in skin cancer management, research, and education.
Skin Cancer Connection Newsletter
The Skin Cancer Connection
Read More About Cases Featured in our Quarterly Newsletter Publication.
see our latest video on mohs surgery
SCARS Foundation published articles
Latest Skin Cancer Articles
Skin Cancer and Reconstructive Surgery Center is Orange County's premiere skin cancer center, offering patients, physicians, and the community a credible resource for understanding, preventing, and managing skin cancer.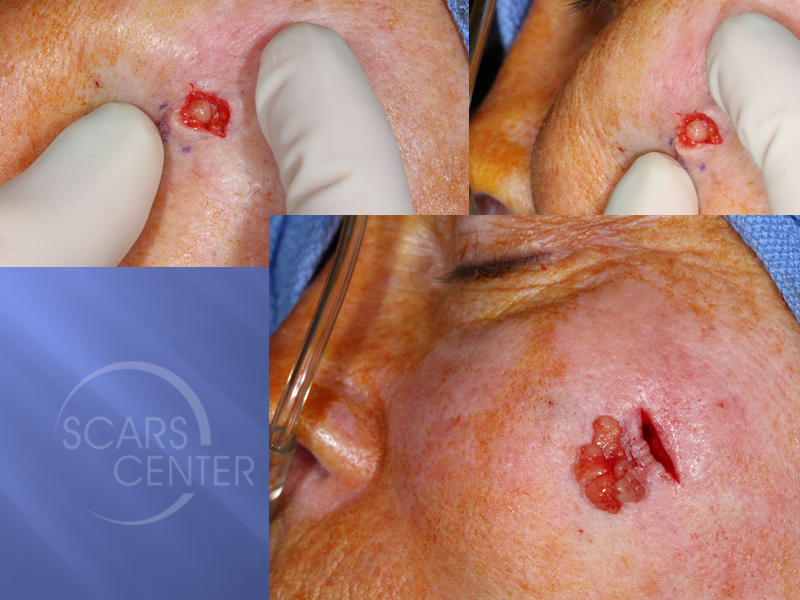 HISTORY 57 year old woman presented with a 6 month history of a dense nodule in the subcutaneous malar cheek. Biopsy on 3/31/2017 revealed a foreign body reaction granuloma with polarizable foreign body. Kenalog injection of the mass was performed a few months before without improvement. There is no history of Sculptra or other fillers…
Read More

→
A TEAM APPROACH TO SKIN CANCER MANAGEMENT
Our acclaimed and experienced skin cancer specialists deliver exceptional care to our patients using a comprehensive team approach.
SCARS Center specialists include dermatologists, dermatopathologists, radiation oncologists, facial plastic and reconstructive surgeons and ophthalmic plastic and reconstructive surgeons.
Together we offer specialized treatment options that range from non-surgical cure such as Photodynamic Therapy, Superficial Radiotherapy, and topical chemotherapy, to Mohs excision in combination with closure and, in many instances, reconstruction by our board and double board certified plastic surgeons. The combination of specialists and treatment options available at SCARS Center provides patients with the convenience and quality of service every person deserves after a skin cancer diagnosis.
MONTHLY SKIN CANCER CONFERENCE
Skin Cancer and Reconstructive Center is home to the SCARS Foundation Monthly Skin Cancer Conference, which has been held on a monthly basis for more than 10 years. The CME-Accredited conference was established for the benefit of our patients, our physicians, and all physicians involved in skin cancer management.
CME ACCREDITED SKIN CANCER CONFERENCE
Earn your CME credits at the SCARS Foundation Monthly Skin Cancer Conference
ELEVATING THE STANDARDS OF SKIN CANCER MANAGEMENT.
Skin Cancer And Reconstructive Surgery Center
180 Newport Center Drive Suite 158 | Newport Beach, CA 92660 | P: 949.200.1600 | F: 949.719.1810