Right to Left: Gregory Bartlow, M.D. (Dermatology); Simon Madorsky, M.D. (Facial Plastic & Reconstructive Surgery); Michelle Aszterbaum, M.D. (Dermatology); Ronald Barr, M.D. (Dermatopathology); Matthew Goodman, M.D. (Dermatology); Judith Harrison, M.D. (Radiation Oncology)
A TEAM APPROACH TO SKIN CANCER MANAGEMENT
Our acclaimed and experienced skin cancer specialists deliver exceptional care to our patients using a comprehensive team approach.
SCARS Center board certified skin cancer specialists include: dermatologists, dermatopathologists, radiation oncologists, facial plastic and reconstructive surgeons and ophthalmic plastic and reconstructive surgeons.
Together we offer specialized treatment options that range from non-surgical cure such as Photodynamic Therapy, Superficial Radiotherapy, and topical chemotherapy, to Mohs excision in combination with closure and, in many instances, reconstruction by our board and double board certified plastic surgeons. The combination of specialists and treatment options available at SCARS Center provides patients with the convenience and quality of service every person deserves after a skin cancer diagnosis.
CONTINUING MEDICAL EDUCATION FOR OPTIMUM PATIENT CARE
The SCARS Foundation CME accredited Skin Cancer Conference is hosted regularly for the benefit of our patients, our specialists, and other local physicians involved in skin cancer management. The conference is designed to maximize our physicians' effectiveness in patient care by highlighting high-risk skin cancer cases, difficult reconstructive cases, and other skin cancer treatment challenges. The monthly conference allows our physicians to stay ahead of the curve on treatment developments in the skin cancer community, and gives our patients access to a multi-faceted team approach in handling complex cases.
Skin Cancer Connection Articles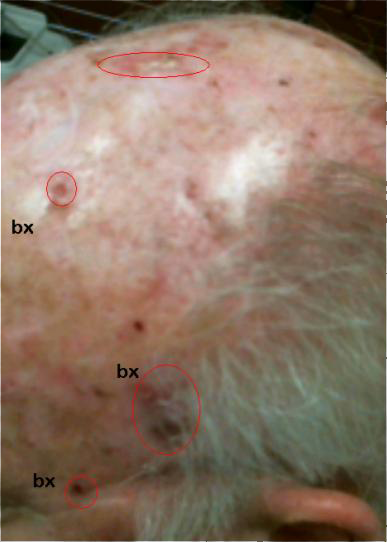 HISTORY 71-year-old organ transplant recipient presents with several SCC's of scalp and face. Mohs excisions and closures were performed.  Tissue of the left temple incidental to reconstruction was submitted for histologic analysis. Incidental BCC was found in the specimen requiring additional treatment. 4 to 6 o'clock margin was involved. The patient with bilateral kidney…
Read More

→
CME ACCREDITED SKIN CANCER CONFERENCE
Earn your 2018 CME credits at the SCARS Foundation Monthly Skin Cancer Conference
ELEVATING THE STANDARDS OF SKIN CANCER MANAGEMENT.